Description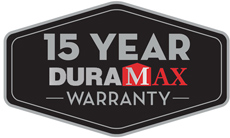 The 8'x6′ DuraMate is ideal for most backyards. This shed was designed to meet the height requirements for most communities. All DuraMate Series sheds feature wide double doors. All walls are reinforced with solid metal inserted in the columns, allowing you to easily hang shelves inside the shed. The DuraMate is an ideal outdoor storage shed: it's fire retardant; won't rust, rot, dent or mildew; it never needs painting; and it will last for years to come.
Won't Rust Rot or Mildew

Shed is all weather, fire retardant, greater long term value and maintenance free; shed will not rust or corrode like a painted metal

Vinyl shed reinforced with metal inserted columns for even greater strength and rigidity make this shed stronger than ordinary plastic sheds

Wind tested to 175 kph when anchored to ground and tested for snow load; shed will not fade, rot or mildew like a wood

Strong Metal Structure Tested For 20lbs/sq.ft. Snow Load

All Weather & Durable, made from uPVC, see below for info on this amazing building material
Extremely safe building material – phthalate & BPA free
Made in the USA
1.85m high 2.39m wide 1.6m deep
Door opening 1.54m wide
Never Needs Painting
Made from Fire Retardant Materials
Easy 4-5 Hour Assembly
Includes Door Handles with Padlock Eyes
Strong Metal Structure
ASSEMBLY MADE EASY
The assembly is simple, clean, safe and can be completed in 2-3 hours with two people.
All parts are pre-cut, drilled and numbered for ease of assembly. All you need to provide is a level surface of either wood, earth or concrete, the size of the desired building.
About uPVC
uPVC actually stands for unplasticised polyvinyl chloride.  uPVC is also commonly known as rigid PVC and it is called this because it is hard and does not flex. This material does not contain any phthalates or BPA, so it is actually quite safe. uPVC is so stable and safe that it is actually used to make dental retainers and mouthguards!
Uses for uPVC
uPVC is actually becoming a very common building material and thus you'll find that it has lots of uses.
uPVC is used for the following things, amongst others:
Window frames and sills
Doors
Fascias
Cladding
Advantages of uPVC
There are several advantages to using uPVC in the home.  As previously mentioned, it is a very safe material, so it can be used to transport water, or in items that are designed to go in the body without fear of ill effects.  uPVC is also one of the lowest maintenance building materials that you'll ever find.  It does not warp, rot or rust, even when subjected to the harshest of weather conditions.  It'll also never fade, and will stay looking good year in and year out.  The colour actually goes right throughout the thickness of the material.  If it gets scratched, you can usually polish out most surface scratches without any issue at all.  All you have to do maintenance wise is to give it a clean every now and again!
uPVC is completely water resistant and it is fire resistant.  uPVC is also completely recyclable at the end of its long lifetime, making it one of the more environmentally friendly building materials.  Builders and tradespeople love to use uPVC as it is lightweight, durable, easy to work with, and cost effective.
Of course, uPVC can also be a very aesthetically appealing material, especially when it is designed to be visible as it is in doors, windows, and cladding.  It comes in an attractive painted timber look finish that is usually white or ivory but advances in technology mean that more and more colours are now available.