Description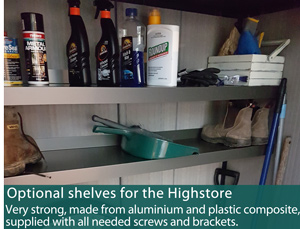 FREE Delivery. The Keter HIGH STORE features an elegant, modern design with wood textured walls that you can even paint to match your home. High strength construction featuring thick, twin wall panels that make this unit one of the toughest Keter has ever made! Completely weatherproof and with our optional shelving system this small shed makes for a very versatile storage space. The shelves consist of 2 full width, 300mm deep shelves with all required hardware to install them. They are made from a high-tech coated aluminium and plastic "sandwich" composite, making them both very strong and very attractive. You can place these at any height you need and they attach to the back and side walls.
The KETER HIGH STORE is the ultimate storage solution. Spacious and sturdy, it can hold heavy equipment and garden supplies thanks to the heavy-duty floor panels. Made with rib-reinforced double walls and weather-resistant materials, the shed is durable and easy to maintain. It also features wide double doors, and a ramp like entry allowing wheeled items to be easily pushed in and out.
Durable and sturdy, perfect waterproof outdoor storage.
Comes with rib-reinforced double wall panels and a heavy-duty floor panel, perfect for your heaviest items.
Wood-like texture provides the attractive appearance of wood with all the benefits of high quality plastic.
The sloped threshold will help you store and take out large equipment easily.
Easy to assemble using common household tools.
Optional shelves available via the drop down options.
Lockable design for added security.
Paintable walls allow for customisation.
Dimensions:
      External     Internal
w   139.5 cm    130.5 cm
d    77.0 cm      66.0 cm
h    181.5 cm   176.5 cm
Packaging
w   190.0 cm
h    20.3 cm
d    74.4 cm